Update 6/6/19: We're in full swing with summer camp season now, which means no immediate events on the horizon… but we've got some stellar gatherings in mind come fall, so join our mailing to stay tuned.
---
Past events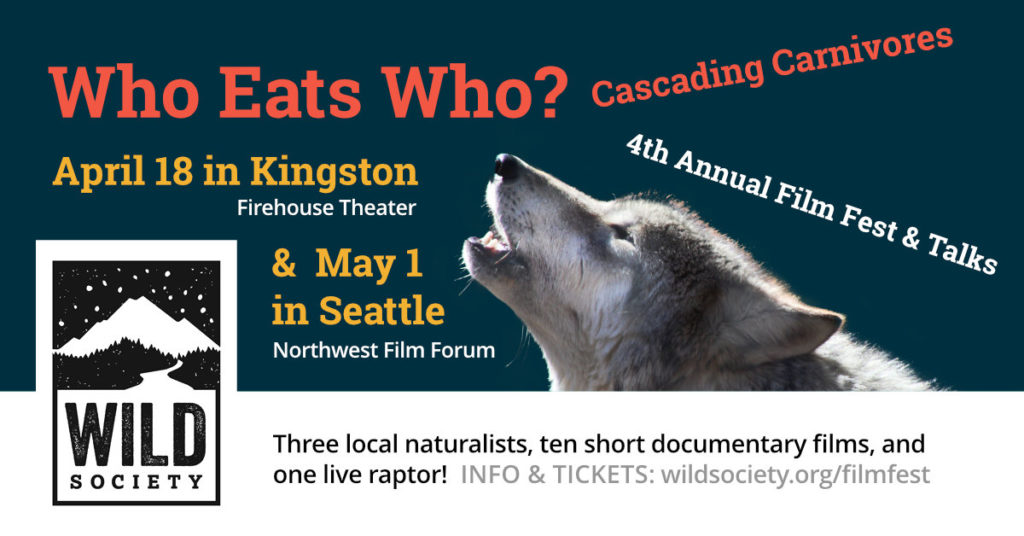 2019 Film Festival & Talks: Who Eats Who?
Join us to explore the beauties, challenges, and connections of meat-eating organisms around the world. Wolves, snow leopards, bears, yes—but also orcas, deep sea jellies, Venus fly-traps… two chances to attend one wild program, on either side of the Sound:
KINGSTON: Thurs April 18, 7-9pm, Firehouse Theater
SEATTLE: Weds May 1, 7-9pm, Northwest Film Forum
Films
"Living With Snow Leopards" by Gayle Podrabsky, "Diet Secrets of the Deep and Fathomous" by Monterey Bay Aquarium Research Institute, & "True Facts: Carnivorous Plants" by Ze Frank, "An Eels Journey" by BRIKK,* "Carnivores" by Gaëtan Borde, "Some Animals Are More Equal Than Others" by Biointeractive, "Venom: Killer and Cure" by Beakus, "How Wolves Change Rivers" by George Monbiot, + 1 more TBA!
Speakers
Melinda Barajas, Orca Network; Fawn Harris, Westsound Wildlife Shelter (bringing a live raptor wildlife ambassador!); Gayle Podrabsky, Snow Leopard Trust.
---
2018 Film Festival & Talks: On Common Ground
Thursday March 22nd, 7:30pm, Kingston Village Green
April 7, 7pm, Bainbridge Island Museum of Art
Join Wild Society for our 3rd annual film festival to explore human relationships with land through short documentary films and guest speakers. Featured narratives range from contemporary experiences of sovereign native traditions to a corporation that embraces deep reuse of materials. Reflect on the beauty, complexity, and challenges of what it means to live on the earth in a good way.
Films on the docket: "Unbroken Ground" by Patagonia,  "A Common Right: Mongolia" by Global Call to Action, "Oursness" by Global Oneness Project, "Economy and Environment" from Planet RE:think by the European Environment Agency.
Speakers: Robin Sigo, Suquamish Tribal Council; Lila Trowbridge, Forterra
---
2017 Film Festival & Talks: For the Love of Plants
Must-see shorts
"Clam Basket" (feat. Ed Carrier), "The Wet Desert," "The Sex Lives of Christmas Trees," "These Resurrection Plants," and more
Three phenomenal speakers
Mark Darrach, field botanist & rare plant expert
Melinda West, plant fiber artist
Dan Hinkley, global plant explorer
---
2016 Film Festival & Talks: Changing Tides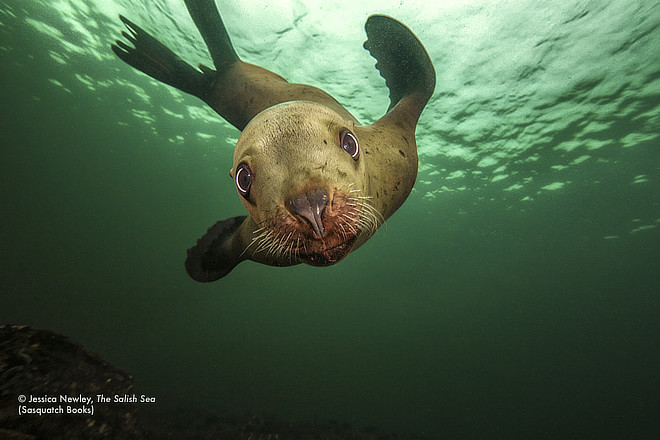 Stories of restoration in the Salish Sea: join the Wild Society for a night of exploration through the vast world beneath the surface of our local inland sea. Learn about the beautiful, complex, and illusive ecosystems of the waters right outside our doors.
Speakers
Joseph Gaydos, Chief scientist for the Seadoc Society
Paul Dorn, Fisheries biologist for the Suquamish Tribe
Brian Allen, Marine naturalist for the Sound Restoration Fund
Films
The Unknown Sea, Kevin Campion
Forage Fish of the Salish Sea, Jesse Nichols
Skagit Marine Reserves: Anchor for an Ecosystem, Jesse Nichols
Exploring at Low Tide, John F. Williams
Olympia Oysters, John F. Williams
Bull Kelp, John F. Williams
---
Story Night
On hiatus. We are looking for a self directed volunteer who wants to take on managing a regular story night. This is a great way to get involved with Wild Society in a well defined way! If this is you, please get in touch.

We believe it's important for communities to have plenty of opportunities to come together to explore through stories, remembrance, and the human voice. Turn off your screens, come see your people, and listen to your stories! Story night is a place to bring the whole family and be delighted.