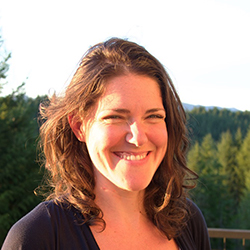 Jessica Lind Diamond Green, President, lives in Seattle and relies on the outdoors to keep her sane. She enjoys kayaking, biking, hiking, camping, gardening, foraging, and lying on her back, looking at the stars. She never tires of splashing around in phosphorescence. Jessica also spends a good amount of time indoors, planning events or fundraising for independent media. She has worn a number of hats in the recent past for The Nation, YES! Magazine, the Seattle Good Business Network, and Pike Market Childcare. She has also volunteered with Around the Table Farm, Crosscut, and Bainbridge Vineyards.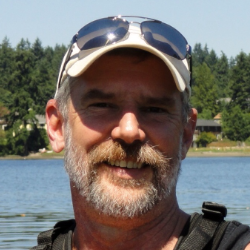 Les Welsh, Vice President, currently serves as the Associate Director for the Pacific at the National Wildlife Federation and has been a conservation nonprofit professional for nearly 30 years. He was co-founder of Greenpeace's Great Lakes office and has served as First Nation's Liaison for Greenpeace USA, as Conservation Director and later Executive Director for the aviation conservation organization LightHawk, and as Executive Director for the Maui-based Pacific Whale Foundation. His work has contributed to the protection of such wild places as Tatshenshini and Clayoquot Sound watersheds in British Columbia, Bristol Bay and Tongass forests in Alaska, and the expansion of Papahānaumokuākea and Pacific Remote Islands Marine National Monuments in the central Pacific Ocean.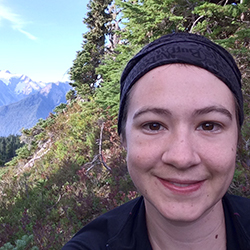 Myrna Keliher, Secretary & Treasurer, is an artist, printer, and publisher who lives and works in Kingston, WA. She owns and operates Expedition Press, a literary print shop focused on poetry and type. At age fifteen, Myrna's first backpacking trip was a weeklong north-south traverse of the Olympics. She has now hiked three-quarters of the park and goes on at least one solo trip each year. The lasting positive impact of that first trip is what made her say yes when Forrest called on a sunny June afternoon and suggested they co-found Wild Society. The Olympic Mountains are where Myrna feels most at home, and she's passionate about sharing that space with others who have yet to experience it.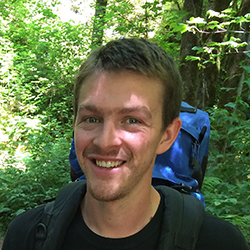 Forrest Nichols, Executive Director, volunteers for Wild Society in addition to working as an engineer for Washington State Ferries, raising his two wild and enthusiastic boys, and rebuilding a wooden sailboat. During his middle and high-school years Forrest was exposed to an array of wilderness skills and experiences through the Tracking Project's Hawkeye camp in northern New Mexico, through rich relationships with several mentors in the wilds of Washington state, and through independent learning opportunities at Eagle Harbor High School. Since those formative years, Forrest has been in love with the outdoors, continually studying and exploring the dynamic and living systems of the world around him. He co-founded Wild Society when he saw that the kids in his community didn't have the opportunities to learn about the natural world that he had grown up with.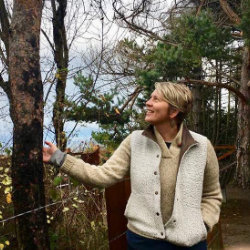 Leslee Dixon is a principal at Corvus Northwest, consultants for small-scale farms and food business. Her formative years were spent around a table or working on farms (including the one she grew up on). The universe of her childhood revolved around visiting an old growth stump tree forts and connecting with the natural world. Leslee has held the title of Mother, Farmer, CEO, Director of Marketing and Development, Senior Managing Partner, Pastry Chef and Minister of Social Artistry. Her loves include art, seed sovereignty, backcountry exploration, human-scaled economies, spoken word poetry and storytelling. She recreates with hiking, snowshoeing, kayaking and cross-country skiing. And she's not too shabby with a slingshot.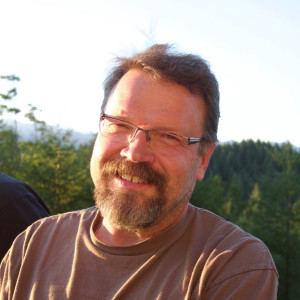 Jussi Keranen is a mostly retired electrician, dad and grandpa. Having the good fortune of being exposed to the outside world early on he's been active outdoors most of his life. Those interests and activities have taken him up and over mountains, through lush valleys and parched deserts, above and below the ocean's surface; feeding an immense curiosity and never ceasing wonder of this incredible planet and it's inhabitants we're so gifted to spend a life upon.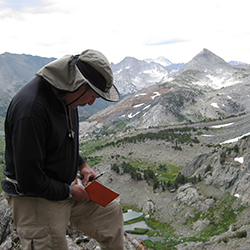 Mark Darrach, Advisory Member, is a rare plant conservation botanist, geologist and musician who makes his home in Indianola. He recently retired from a position as a rare plant botanist for the U.S. Forest Service in northeast Oregon. Mark grew up in a series of steps across the western U.S. before landing in southern New Jersey for most of his formative years. His time spent exploring the magic of the Pine Barrens portion of the state ignited his love and never-ceasing sense of wonder for the natural world, and plants in particular. Mark is also a certified teacher and has taught at West Sound Academy, and as a long-time instructor for North Cascades Institute. During the winter months he works at the herbarium at the Burke Museum in Seattle where he is a research associate doing plant taxonomic research publishing species new-to- science and authoring and reviewing new technical keys for various plant groups. His passions are plants, songwriting and playing acoustic guitar, taking long floats on wild rivers whenever he can get away, and hanging out with his Bernese Mountain Dog Tsuga.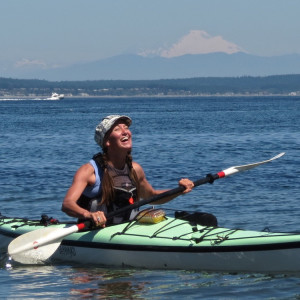 Spring Courtright, Advisory Member, is a seasoned kayak guide who is also the Kitsap ECO Net coordinator and owner of Spring Cleaning, a sustainable home organization business. At age fifteen, after years of personal difficulties, she attended a three-week Outward Bound course that shifted the direction of her life. She began sponsoring other young people who wanted to get sober, assisting outdoor trips with troubled youth, and ultimately working for numerous outdoor organizations. This culminated with a fifteen year period working for the Olympic Outdoor center as a kayak guide and program director. She is an explorer and leader, whether she is in the high mountains, the back woods of Kitsap, or the inlets and passages of the Salish Sea.